THE

BEST SURGEONS

IN THE

JOINT
More Than
150 Years of Combined Experience
At Joint Implant Surgeons of Florida, we understand what it's like to be in pain. No one wants to be held back from their favorite recreational activities, athletic sports or everyday routine. We also know that each case is as unique as the patient who brings it to us. That's why we are committed to providing every patient with the best experience possible, from the diagnostic process to treatment and recovery.
HELPFUL

PATIENT RESOURCE

CENTER
Find educational information about all aspects of orthopedic surgery, from arthritis and injections to joint replacements, physical therapy and pain management in our Patient Resource Center.
A

FULL SPECTRUM OF
CARE

FOR

YOUR SPINE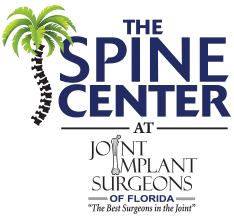 Are you unable to enjoy your life due to strong or mild back pain, reduced mobility or what-if worries? The Spine Center at Joint Implant Surgeons of Florida can help you align your spine with your lifestyle goals. With decades of experience and a patient-centered approach, you are sure to find the best minimally invasive treatment options for your unique circumstances.
When you're deciding who to trust with your medical care, it helps to hear from others. While our commitment to restoring independence and improving quality of life goes bone-deep, we want you to hear feedback that comes directly from our patients. Read about their surgical outcomes and experience with Joint Implant Surgeons of Florida. We are confident you'll make the right call.
Dr. Humbert and Staff, Thank you for your skill and caring in the replacement of our knees. The replacements made it possible for us to bicycle along the Tuscan coast pain free.
My recent hand surgery has not only made my job as a teacher much easier each day, but I can enjoy playing with my new Grandson without pain! Thank you Dr. Sagini.
Thanks to you and your team we will be playing together on the Gulf Harbour Men's Team this Fall in the Lee County Tennis League, and we welcome all comers in our regular golf outings!

ENRICHING CAREER OPPORTUNITIES
AT

JOINT IMPLANT SURGEONS
OF FLORIDA
Are you searching for a rewarding career path to put your degree and training to good use? Joint Implant Surgeons of Florida accepts resumes from highly credentialed, experienced medical professionals who wholeheartedly embrace our mission. Driven and empathetic, we are committed to providing safe, effective surgical and non-surgical care to restore each individual's independence and quality of life.